Hello readers. I have had much going on in my personal life so my computer time is very limited. I do see things slowing down very soon so hopefully I can keep up with my blog. Since my last visit I have had some stitching news to share.


My online stitching community, Needleworkers' Haven, had a lovely Valentine Exchange. I received the nicest package in the mail from a member at Needleworkers' Haven, Wendy. Thank you so much for the lovely exchange goodies Wendy. I love everything I received. Here is a pic of my goodies.


I have also been busy stitching on a Needleworkers' Haven Monthly Themed SAL for March which was a green theme. I chose a lovely "Shamrock Sampler" by Pelin Tezer which a got at
PatternsOnline.com
. Here the picture of the finished (stitching at least) piece.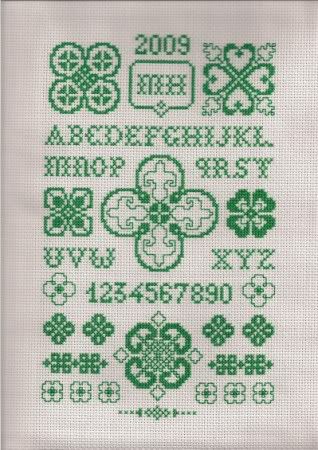 Moving on I would like to share my own design I did for my DD's birthday in February. I still need to paint the wooden box that this will end up being placed on. Once I can get some free time I will be able to do that. This is called "Lady Bug Love" by Little Old Me Designs. Please take a moment to vist my LOMD blog. There are freebies there for you to grab if you would like.
I also completed my Christmas ornament for February too! This is for my sweet sister. She loves designs like this so I thought this would be a nice addition to her beautiful tree this year. This is a freebie from Cross Eyed Cricket called "Christmas Wish".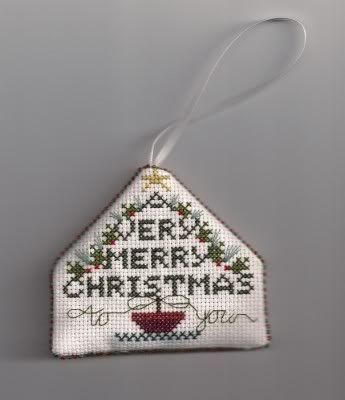 I have also been busy stitching on my "The Night Before Christmas" piece I designed (Little Old Me Designs) for Needleworkers' Haven members only. I used my Patternmaker Pro, some clipart from PMP, PC Stitch 7 & leaflets I own. I put it all together last year to use as a SAL for my online stitching community only. This is my progess as of March 26th. This is a very big project but one I will cherish always. I hope this will become an heirloom piece to be handed down in my family for many years to come.
I think this about catches me up with all my stitching news. On a personal note, our daughter and granddaughter will be moving into a house of their own this week. It will be so quiet here and I will have time to do the things I have had to let go for the past two and a half years. I hope I will remember how to handle all the me time. LOL It's time for our girl to fly from our nest and make one of their own. Ron and I truly wish them the best that life offers. We are very happy for them and they will only be about a mile around the corner from us.
Well dear readers, until the next update I wish you all the very best. Enjoy your spring weather and may you each be richly blessed each day. Until later....